Rescued from the RAC forum with permission from BT
A series that I have been watching recently is Mahoromatic, which is initially about a maid and a young boy. In this review I hope to persuade you (the reader) into watching this series, or at least thinking "this isn't just ecchi". I'm going to write this review with different headings, so if you don't want to read it all, you can just read the parts that may interest you. I have also tried to keep spoilers to a minimum (as much as I'm bursting to discuss the more in-depth parts I have tried to curb this urge).
--------------------------------------------------------------------------------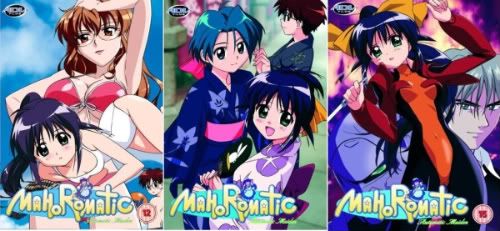 Season 1 DVDs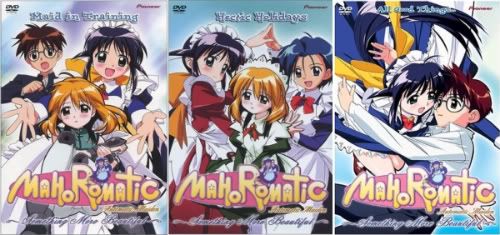 Season 2 DVDs
Images from amazon.co.uk
--------------------------------------------------------------------------------
DVD contents
Mahoromatic comes in 2 seasons: "Mahoromatic" and "Mahoromatic: Something more beautiful". All together there is 3 volumes in season 1 which is 12 episodes long; 3 volumes in season 2 which is 14 episodes long and an OVA which is 1 episode. The first season is available as 3 separate R2 DVDs; but there is no season 2 available as a R2. You can get box sets containing every episode in season 1 & 2 as R1; or you can buy the individual volumes as R1. There are lots of options on how to buy, so you can see at least some parts of this series. The actual title menus on the DVD are very basic, and the extras are minimal. There is only a stereo track on all the DVDs, so no 5.1 surround sound. Although you do get a little fold out card with character drawings and as you go through the DVDs the clothes of the characters begin to come off. But you end up seeing almost every character naked in this show, so why would you need a printed "real life" version…. The OVA called "Mahoromatic: Summer Special" is just an extra episode, and from what I have read, it is continuing the ecchi themes with prono mags and the breast size "issues".
What is Mahoromatic about?
Mahoromatic is a series beginning with a young boy, Suguru, who has lost both his parents. He decides to hire a maid and sets off to go interview her. This maid turns out to be a retired combat android named Mahoro (who only has 400ish days to live) and from then on nothing is the same for Suguru ever again. At the beginning of the series it is believed this is just a coincidence, but later on in the series more is unwrapped about the past of the maid Mahoro and how it is linked with Suguru.
Mahoromatic could be described as an ecchi series, but it also has elements of romance, action fighting and then some deeper more sinister moments (in comparison to the lighter moments in the show). You will get to see every female character fully nude regularly throughout the series; but you will also get to feel the emotions of the characters when a more serious moment arises. Being able to see the characters unclothed, I think, gives a feeling of understanding them further. You get to see every aspect of their body, which further reveals the type of character they are in the show. It's also a good way of showing a sense of equality amongst them. *Possible spoiler* Sure Mahoro is an android and other characters might be more shy, or more noisy than others; but they're still all the same (in a human sense). This is a subtle indication towards what Mahoro is; which is not revealed until the final episode of season 2 - and it's revealed in an ambiguous way, so that you can decide for yourself what Mahoro is. (I'm being vague since I don't want to spoil anything for anyone who plans on watching this).
Looking at season 1
Season 1 contains many enjoyable scenes - some which you would expect in a series like this; others that are quite strange and will make you go "wtf?". You get your beach scene where all "the gang" go to the beach; yay you get to see them in swimsuits. What could possibly go wrong at the beach; how could that turn into a "wtf" moment. With a crab tank who is missing a few screws. So instead of killing people (as all crab tanks do) it rips off every female's swimsuit in the area. So you now have a crab tank that is removing swimsuits running loose. There's then a mini fight scene, Suguru helps Mahoro who is damaged, etc etc.
Season 1 really deals with the build up of the relationship between Mahoro and Suguru. You will get to see both characters become closer through the various episodes, such as them going on a date, hunting ghosts in school or saving each other from trouble. The good thing about this series is it's not just the male who is saving the female (or the other way round). It's a 2 way relationship where Mahoro can rely on Suguru to help her adjust from her original combat life; and likewise Mahoro is able to give Suguru that feeling of no longer being alone.
At the end of each episode there's a reminder of how many days Mahoro has left to function. This acts as a reminder that nothing is permenant and something tragic will eventually happen. This is definitely a contrast to the tone of the first season, and isn't really picked up on, but it does play an important role in the overall themes present in the series.
The climax of Season 1 is the duel between Mahoro and an android from her past. I'll leave this blank to let you enjoy the series without any spoilers.
Looking at Season 2
Season 2 continues where we left off. All "the gang" are back and everything is cheery and happy again. A new character is introduced in this season, Minawa, who is an android from another organisation. She is similar to Hyatt in Excel Saga, with her faint voice and falling over (no dying though). The female characters that were quite dormant in season 1 are back with more life and they all seem to have a passion for Suguru.
You will get to see these characters build stronger bonds with each other; and there are still plenty of ecchi moments. And you still have the "important" recurring theme of breast size. You even get an episode where they try out a breast enlarging device. It feels like you're just watching a continuation of everything so far, with your usual Christmas, New Years, and Valentines episodes.
Then you hit episode 9.
All the small snippets of information about the various organisations come together, and the series becomes darker and more mysterious. It deals with world events such as the Kennedy assassination; as well as the ideas of small "higher up" groups controlling how the world is shaped.
The final episode is also unique in the way it is made. You have real live images of things (a bar for example) and the animation is filled in around it. An important theme is also present here, one that is seen in Cowboy Bebop, about the past and how it shapes us (and not being able to let go of the past). In fact comparing this single episode to Cowboy Bebop is quite significant, since this series has been happy and great fun; but now it is more gritty and rough. But I'll halt the discussion of this, spoilers are nasty.
--------------------------------------------------------------------------------
To summarise; Mahoromatic starts out to be a fun series and contains a lot of ecchi moments. You will probably start watching this and think it's just another fun series, how can anything bad happen here. But towards the end you will encounter a larger and more in-depth look at the series; and it will bring forward the darker themes present in this show (which has only been subtly indicated throughout the show). It is definitely worth watching and you might be surprised by how much you enjoy it; or you might hate it as much as you thought you would.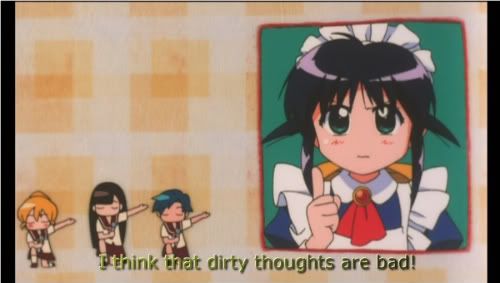 BT