Noir the Complete Collection
ADV Trailer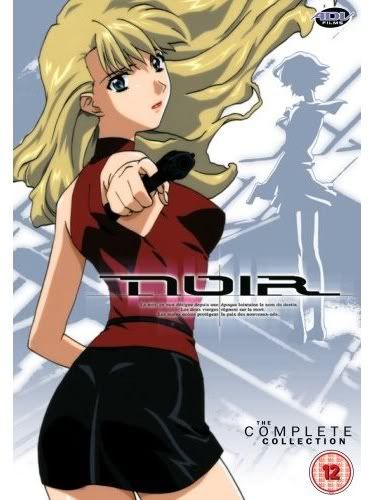 DVD cover art taken from amazon.co.uk
All screen caps taken from Noir Complete Collection DVDs
Intro
With the recent release of the R2 Noir Complete Collection, which is a show I have really wanted to watch, I have decided to write a review to hopefully get people's attention. I actually haven't finished watching the series (up to ep 21), but I think now is a good time to review, and hopefully keep the ending a surprise to me and you. 
Noir is a complex action anime which follows, initially, two female assassins. Together they are trying to find out the truth about their past and why a certain organisation has targeted them. The series is based in Europe, mainly France, so should be more familiar to a European audience. 
Characters
Mireille is the first character we see in the series. She has long blonde hair and blue eyes and is a highly trained assassin. However from the start we see she has a troubled past where her parents were killed, and she seeks revenge. Throughout the series you will see how she learns more about this event and reveals more of her personality.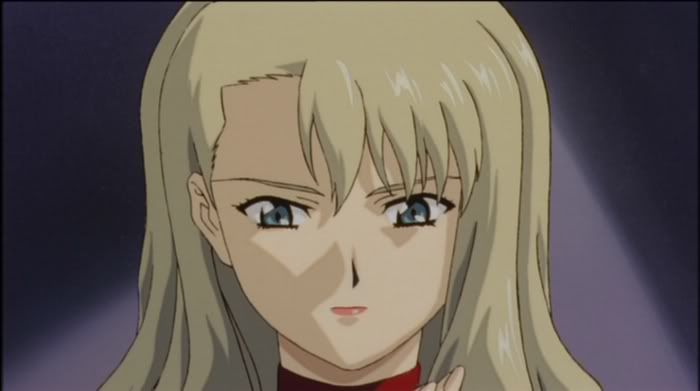 Kirika finds Mireille at the start of the series when they are both attacked by unknown suits. She has red eyes and black short hair, opposites to Mireille. From the start we can see Kirika is a very skilled killer, almost anything can become a deadly weapon in her hands. However she doesn't remember anything about her past, she doesn't even know if her true identity is the one on her student card.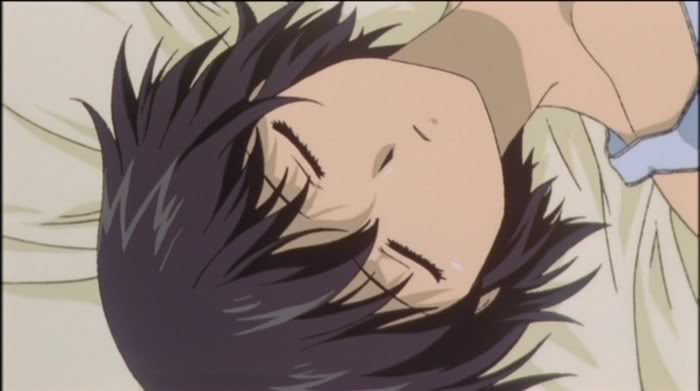 These two characters agree to pair up, but Mireille promises to kill Kirika (I don't know why, the start was very confusing to follow) once they know the truth. Both characters are linked also through a watch, which depicts two maidens holding swords. This watch has a ghostly "music box" melody whenever it opens which sends shivers up your spine every time you hear it. 
Discussion of Key Features
One interesting point about the series is the art style. It is very similar to .hack//SIGN and you might recognise some of the character styles. For example, Kirika sometimes does the Tsukasa depressed face, and Mireille looks like BT. The only problem with the animation is when it zooms out to show a wider picture the characters become blobs with very little definition. 
Another important feature of this series is music. As mentioned you have an eerie music box melody that is used to change the mood. But there is also a lot of variety with various themes being repeated throughout the series. The opening and ending themes are quite appropriate too. The opening is more action and upbeat, containing various discordant and high pitched squeals to show pain. The ending theme is more relaxed and has been recorded such that you can hear the vocalists lips move open and close, as if someone was whispering in your ear. 
The series is littered with symbolic items to enhance certain points begin put across. For example at Mireille's apartment she doesn't have any tables, only a snooker table where she does all her work from. This shows she leads a different life from many of us - who will have tables to eat at, tables to work at etc - and it also has gangster connotations, you can picture the classic gangster hanging around a snooker table in a pub. The very title Noir (meaning black in French for those who don't know) suggests a dark plot. 
Some other points to note is there is next to no blood present. You would think with all the killing involved the series would be covered in it, but no, it reserves blood for more shocking or important scenes. There is also very little fan service. How can two girls run & jump around in short skirts and not expose their panties? Well there's none of that. The most you'll get is a bikini and a shower.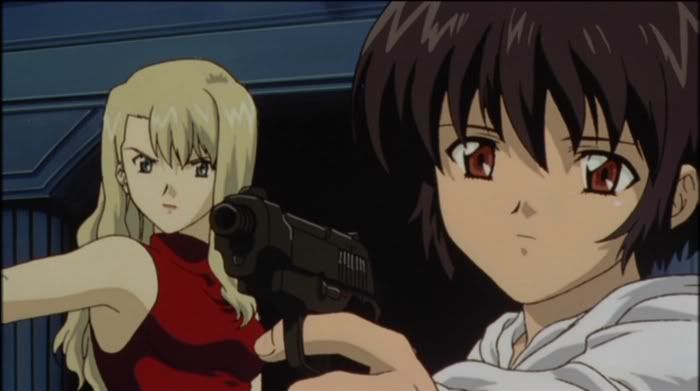 DVD contents and presentation
The first thing that struck me when I put the DVD in was the surround sound. It was actually present throughout the whole DVD and was marvellous to listen to. Only two other DVDs I own can match up to the standard of the surround sound, and they are Evangelion & Saikano. But that's not all; the picture quality once moving is great. For once it is making full use of my Graphics Card to make the images flow smoothly, which isn't normally present in the DVDs I own. And to top that all off the DVDs in the drive run very quietly. Saikano can match in picture quality and sound quality, but when the DVD drive is roaring like a jet engine it just isn't pleasant.  
The DVDs contain the usual clean opening/ending, ADV trailers, Concept art sketch thingies; but the best extras are the interviews with the Jap VAs. It's nice to hear what they think of the series and how they recorded it. You also get a silly little Dog Tag, it's just a chain with thin plastic thing saying "Noir". 
The only complaint I have is some of the DVDs can be a nightmare to get out the box. I'm scared if I don't remove them carefully they'll snap, but doing that is difficult since the bits holding them in never want to let go. 
Conclusion
So to summarise, Noir is an action anime following two assassins and their quest into the past. The series has many great features, such as the use of music and symbolic items. The DVDs are very well presented by ADV, and if you have powerful equipment you can gain the full potential from it. Plus the complete collection is available now, go buy it now! 
So far I've really been enjoying this series with the plot twists, and Kirika has to be my favourite female character in any anime that I've seen. The only thing that could muck this up is if the ending is really bad and leaves things open. I'm also watching the Japanese voices with subs, I have yet to hear the English dub of this.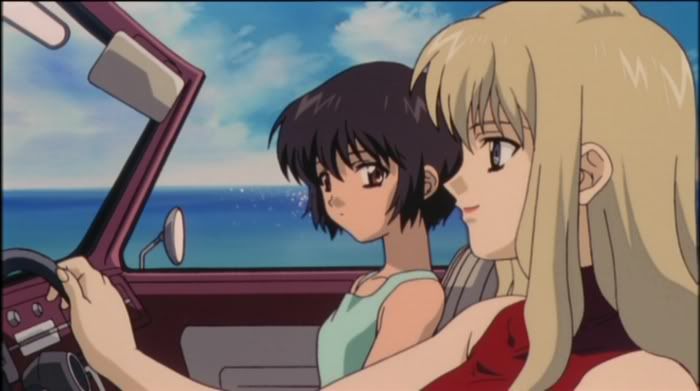 BT